Your House Is My House: Cohousing Makes Inroads Around the Globe
02 June 2017 by Adam Bonislawski
PLAY OF THE LAND
Like your neighbors? Maybe you should move in with them.
Communal living, or cohousing, isn't exactly a mainstream phenomenon, but since starting as a small movement in Denmark some 45 years ago, the practice has spread around the globe, with groups of people opting out of conventional single-family living to form intentional communities committed to more intimate sharing of space, work, play and life in general.
It's not for everyone, but the lifestyle has its benefits. For instance, says, Grace Kim, founder of Seattle, Wash.-based architecture firm Schemata Workshop and an expert on cohousing, her community shares meals together three times a week.
For kids there's a great opportunity to be around other children, especially for only children.
"I don't have to cook three days a week," she says. "And that saves time that we can use to be together as a family or where I can do the things within the broader community and still get to have a delicious meal."
Perhaps more attractive than cohousing's potential practical advantages—though one should never underestimate the value of a ready-made meal to a working parent—are its social benefits. As people move farther from their extended families, social isolation becomes a greater risk, one that communal living can address, Kim suggests.
Cohousing can also help foster close relationships within and across generations, she notes. "For kids, there's a great opportunity to be around other children, especially for only children," Kim says. Also important are the benefits of "just being around other adults who are not family and building relationships with adults that are meaningful and important for their development."
Kim's community brings together nine households in a single building on a 4,500-square-foot lot in downtown Seattle. The building includes common spaces such as a roof garden and an outdoor space for children, but at the same time, "everybody has their own private space, their own autonomy," Kim says. "We have a huge sense of community and mutual support and all the social interaction that we want. And when we don't want it, we just go inside our homes."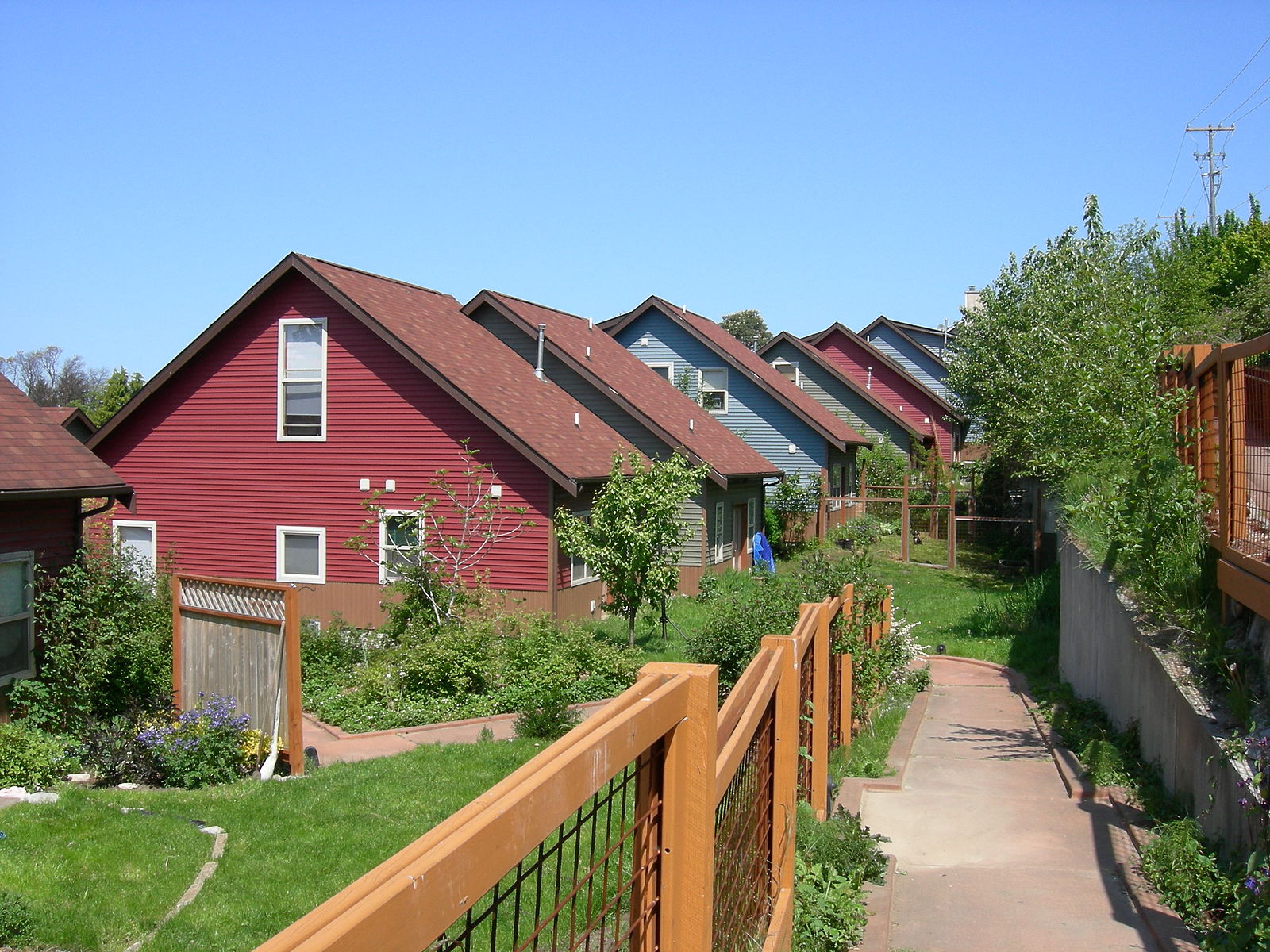 Cohousing community in Seattle, Wash.
In a physical sense, the building is much like any other apartment complex, though with a few architectural adjustments designed to encourage community life. What makes it cohousing, Kim says, is the fact the residents have chosen to live that way.
"The intent is the biggest thing," she says. "That's why we have meals together. That's why we have unspoken contracts about watching each other's kids and interacting with each other in a supportive way."
The importance of intent might suggest that such communities could prove challenging to sustain as, for instance, original residents move on and are replaced by new ones. Kim says, however, that the experience of many of the original Danish communities provide reason for optimism.
"Ten years ago, I was in Denmark doing research and those communities were 35, almost 40 years old at that time," she says. "And they were still very robust communities that were meeting together regularly and eating together regularly, so they never lost that intention."
The building includes common spaces like a roof garden and an outdoor space for children
In fact, one of the biggest challenges these original Danish communities faced was rising property values—a sign, if anything, of their desirability.
"Their property values have increased dramatically," Kim says, noting that this presented issues for young families who were interested in joining the communities but could not afford to do so. "How do you bring in a new young family when the houses are $1 million-plus [dollars]? That was the struggle that they were having."
In the U.S., Kim says, cohousing has been historically an activity that takes place in suburban and rural areas, with much of the country's cohousing activity concentrated in the South. Recently, however, she has seen evidence of "a worldwide interest in building more urban communities."
Interest is growing particularly fast in extremely dense urban areas where land is difficult to come by, Kim says. "They want to be more dense and more sustainable, and so they're looking at how to reduce their footprint in the urban environment and [still] have a great quality of life."
MORE FROM PLAY OF THE LAND: