Smaller Cities Are the New Hot Spots for Boutique Hotels
26 July 2017 by Karla Pope
THESE WALLS CAN TALK
Move over big cities, secondary markets are quickly becoming the new hot spots for boutique hotels.
More and more, travelers are moving away from cookie-cutter experiences, opting for more unique hotel accommodations. Hoteliers are taking advantage of this uptick in interest, with boutique hotels popping up in big cities around the world. But now, smaller areas are getting in on the fun.
According to Tourism Economics, a company that analyzes travel trends, a quarter of all hotel rooms under construction in the U.S. are found in boutique hotels. And those numbers are steadily growing in smaller parts of the country too.
Small business boutiques have become a mainstream of the hotel industry.
"It's become a phenomenon over the last five years," says Aran Ryan, director of lodging analytics at Tourism Economics.
Why the emergence? It's twofold: For developers and hoteliers, it's cost-effective to set up shop in up-and-coming areas that aren't overcrowded or overpriced. For travelers, hotels in second-tier destinations provide places where they can create authentic, memorable experiences with exceptional amenities.
"Small business boutiques have become a mainstream of the hotel industry," says Bruce Baltin, managing director at CBRE Hotels' Consulting. "They appeal to certain psychographics of travelers. And these travelers go to small cities, as well as major cities."
Big brand, smaller scale

Sure, there are plenty of independent hotels filling the void in smaller markets. However, many popular chains are answering the calls of travelers' expanding desires for more intimate experiences by rolling out collections or soft brands to accommodate their niche needs.
"The internet has helped the boutique concept, because we don't need uniformity. People can have confidence of safety, security, cleanliness, and so on," says Bjorn Hanson, a clinical professor with the Jonathan M. Tisch Center for Hospitality and Tourism at New York University. "It's not surprising that secondary, tertiary and even suburban markets can have unusual hotels that are still part of a brand. So people know, 'Well, it's a Marriott or Hilton. I know it's going to be safe and clean.'"
For example, guests of the newly opened Unscripted hotel in Durham, N.C., can expect the same top-notch hospitality and high-quality amenities that the Dream Hotel Group offers in other bustling locations—but in the heart of the charming, southern city. In the U.S., the 74-room hotel is one of the latest boutique hotels to settle in a secondary market.
Mass appeal
Whether it's an offshoot of a large hotel group or an independent property, the allure of boutique hotels for travelers remains the same in both primary markets and smaller parts of the U.S. From creative dining options to detailed architectural designs, visitors to boutique hotels crave custom experiences, regardless of the location.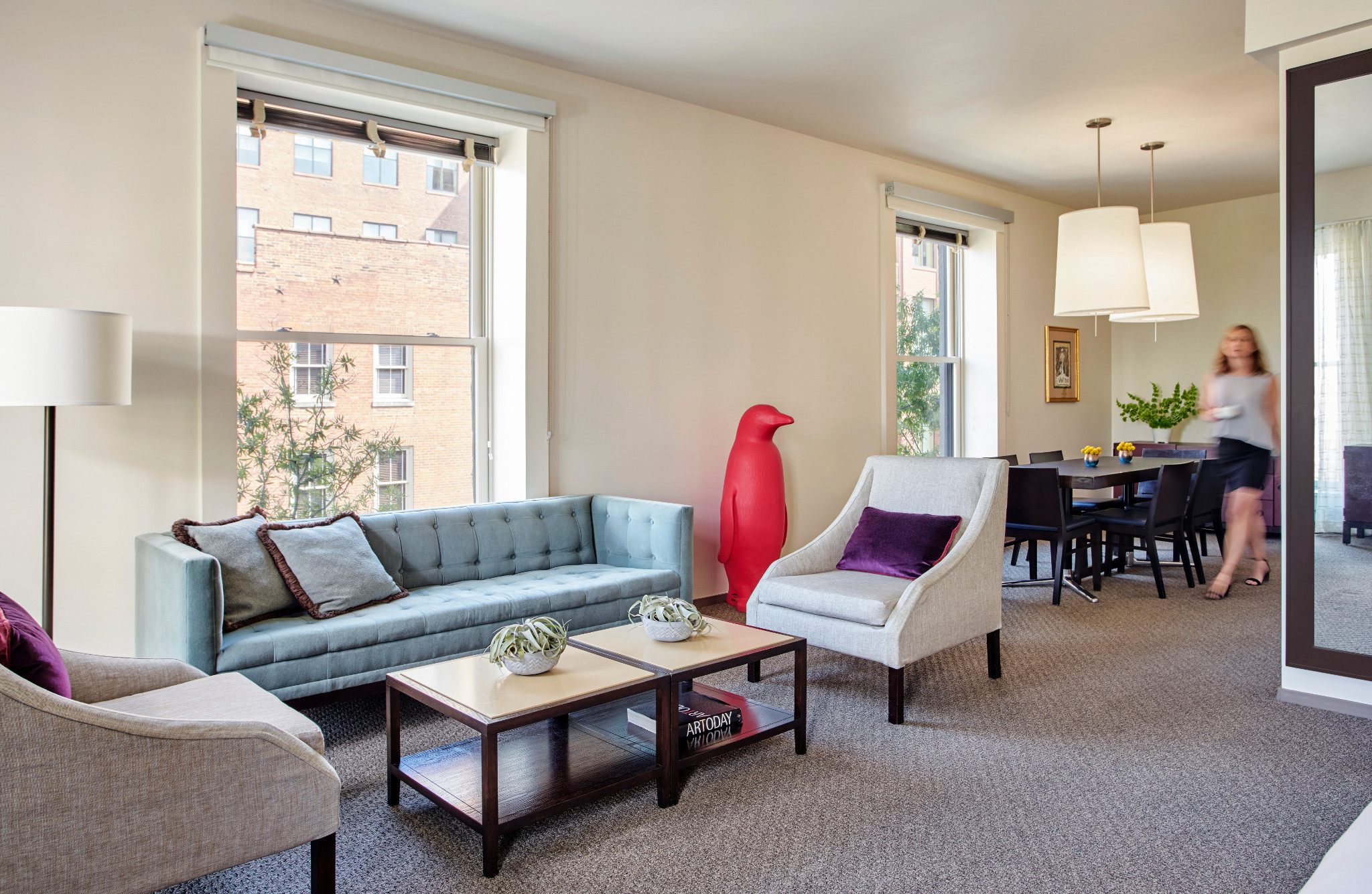 Those quirks and experiential perks are what draw visitors to properties like 21c Museum Hotels, a Kentucky-headquartered boutique chain with six hotels (in various second tier cities) under its umbrella. Each of the contemporary multi-venue properties doubles as an art museum, which allows visitors to optimize their time by presenting artistic elements for them to explore. Preservationists and art collectors Steve Wilson and Laura Lee Brown launched their hotel enterprise with 21c Louisville a decade ago with the aim of revitalizing the city's downtown area by offering the community a mix of hospitality and culture.
"I believe more and more people want to experience more of the local culture and combine a learning opportunity with a travel experience," says Molly Swyers, chief brand officer at 21c Museum Hotels. "Boutique hotels are probably better positioned to deliver that than maybe a larger chain."
Room to grow
Now, more than ever, it's easy to discover boutique hotels in smaller towns across America. "There's more visibility for boutique or unbranded properties than there was in the past," says Ryan. "The increased exposure on online travel agency websites such as Trip Advisor, as well as other online platforms and social media, is beneficial for hoteliers."
The increased exposure on online travel agency websites such as Trip Advisor, as well as other online platforms and social media, is beneficial for hoteliers.
Swyers adds, "Social media is simply a new vehicle for building awareness, and at a more rapid pace. Whereas, it used to take a little bit longer to share your story, today, you post it up on social media and word gets out and spreads so much more quickly."
Getting the word out about these emerging boutiques might seem easy, but some experts worry that down the road there will be too many options in the same market.
"I don't think it's over-building on a national level, but there may be too much of a specific type of hotel in too short a timeframe in some markets," says Hansen. "It may take a little longer for the market to absorb this many of a specific kind of hotel."
And while the verdict is still out on the longevity of the boutique hotel boom in second-tier cities, the progression shows no signs of slowing down. Ryan says, "Finding spots and niches in neighborhoods where one of these boutique properties can be successful, I think that's a trend that can go on for quite a while."
MORE FROM THESE WALLS CAN TALK: