Phyllis Agbo: On the Fast Track to London Real Estate
31 January 2017 by Daniel Rosen
A VIEW FROM THE TOP
To be a heptathlete is to be in an athletic realm unto its own. There are not one but seven track and field events — including javelin, high jump, shot put and the 800m — that test an athlete's speed, strength, endurance and mettle.
From her days playing sports in secondary school in her native London until her mid 20s, Phyllis Agbo had the talent and the drive that led to her international athletic career that included holding British titles and competing in the 2010 Commonwealth Games. She devoted over 30 hours each week to training in order to reach her ultimate goal of becoming an Olympic athlete. Unfortunately, nagging injuries cut her athletic career short.
Faced with a new career choice, Agbo eventually transitioned into commercial real estate, where today she works in the Valuation Advisory Services team for CBRE's West End office in London.
Blueprint, presented by CBRE, spoke with Agbo about the rigors of training for a heptathlon, the impact Brexit may have on London's property market and the one annoying thing about the long jump.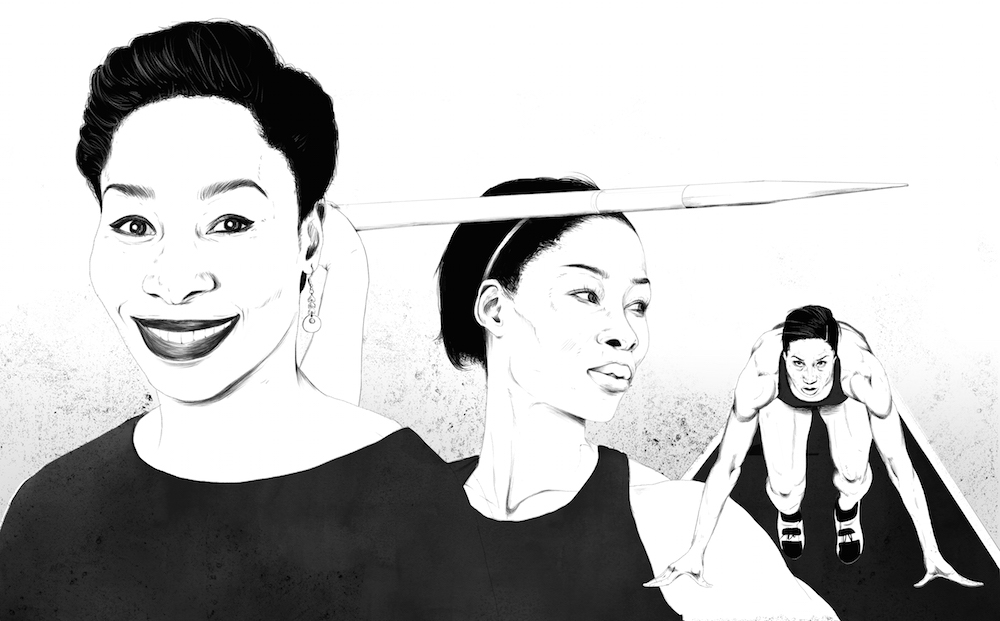 UNIVERSITY
Natural Sciences at Trinity College, University of Cambridge
EVENTS
100m Hurdles, High Jump, Shot Put, 200m, Long Jump, Javelin, 800m
LEVEL
International (1999-2012)
NOTABLE ACHIEVEMENTS IN TRACK & FIELD
Competing at the 2010 Commonwealth Games
British Long Jump Champion 2009
WHEN I KNEW I COULD COMPETE
I grew up in London. I've always been involved in sport from quite a young age. From playing on a playground you find out pretty quickly that you can run fast, you can jump, and you can catch and throw a ball.
I ended up settling on Cricket and Athletics (what we call Track and Field in the UK), and I did them together up until the age of 15. At this point I started progressing quite rapidly, so I made the decision to specialize exclusively in the sport.
MY FIRST HEPTATHLON
I competed in my first heptathlon at the age of 15. The age group score I achieved was higher than one of our previous British Olympic champions and my personal idol Denise Lewis. I thought, "Oh wow. Actually, this could be something to really pursue."
I have always been one of those athletes who didn't like to train for one event all the time. I found that quite monotonous and I would just get bored. So the heptathlon was always a perfect event for me. It meant that I constantly had something new to work on. I was always going to have something that I needed to improve upon, and the variety of training was so much more fun.
My first big championship event was the European Youth Olympics. I was aged 15, and it was my first real experience on the big stage. I started competing in the Golden League (which is now called the Diamond League) from about the age of 17. It is a series of competitions over the course of the year held at different locations around the world whereby you compete, get your score and placing, and finish with a ranking at the end of the year.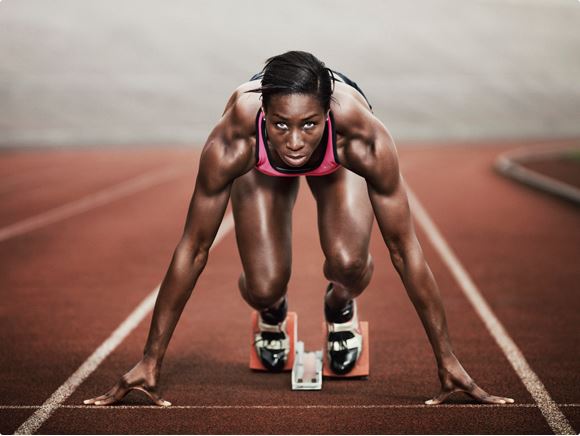 TRAINING FOR SEVEN EVENTS
After graduating from university in 2007, I decided to devote myself full time to training for the sport. On a Monday, I would have a weightlifting session followed by treatment. On Tuesdays, I would focus on high jump, shot put, and then a speed endurance session working towards the 200m. Wednesdays would be sprint hurdling and another lifting session in the gym. On a Thursday, it would be long jump, javelin and a speed session. That speed session would be geared more towards the 100 hurdles and the beginning of the 200m. Friday was a recovery day. Over the course of the weekend we would cover every event and finish on the Sunday afternoon with an endurance session.
TREASURE THE LONG JUMP, DREAD THE SAND
The long jump was an event I felt I was naturally gifted at. I have always been a power athlete rather than an endurance athlete, so the long jump suited me well. You don't necessarily need to be the fastest person in the field, but as long as you are able to convert your speed to height, that is what really counts.
I loved the feeling of flying through the air after hitting a sweet take off, but I wasn't so fond of the fact that you land in sand. It really got everywhere! Once I put on a new pair of spikes and jumped, I was never going to get rid of all the sand. I would notice that each athlete has their own routine for trying to get rid of it all in competition. It can be quite comical sometimes.
Long jump was always my best event and in 2009 I was ranked 1st in the UK for the long jump, which is probably amongst my greatest achievements. As a heptathlete, I didn't train full time for it like the other long jumpers did, so I was very proud to have held that distinction that year.
THE INJURIES ADD UP
Unfortunately, I have always been one of those athletes who struggled with injuries. I always had something that would prevent me from really being at the top of my game.
You just don't know when an opportunity is going to be taken away from you, injury being the usual culprit.
In 2010 I had quite a difficult year. I had come off the back of a great 2009 where I had had my best year as a heptathlete. I worked harder than ever after the disappointment of not making the 2008 Beijing Olympics. I was very consistent with my scoring and I managed to compete among the best girls in the world, including getting an invitation to compete at Gotzis, the best multi-event competition outside of the major championships held in Austria. It is the competition every multi-eventer wants to compete in outside of the championships.
Over the course of the 2010 season, I just wasn't able to put the performances together like I wanted to. Fortunately, because of my 2009 performance, I qualified for the Commonwealth Games in New Delhi, India. However, just before going, I hurt my ankle quite badly during a high jump session. It was a race against the clock to try and get myself fit enough to get on the plane and be able to compete.
I did get on the plane but the unfortunate thing was halfway through the heptathlon, my ankle gave up and couldn't take anymore. I was gutted. I was unable to finish, but I had to take solace in the fact that I had qualified, got myself on the plane, and got to compete on one of the biggest stages in our sport.
Regrettably that is the nature of sport. You just don't know when an opportunity is going to be taken away from you, injury being the usual culprit. You just have to keep training hard and looking after yourself the best you can.
WHEN I KNEW I WAS DONE WITH THE SPORT
I had to have two surgeries at the end of 2010. I had an operation on my right shoulder as well as my right ankle. I really felt broken. I looked pretty broken, too!
Once I recovered, as much as I tried, I just wasn't able to put the same performances on the scoresheet that I did before. You get to the point where your body is just not able to perform or function as you would like it to.
Qualifying for the London Olympics in 2012 would have been my ultimate achievement. However, after processing the devastating realization I wasn't going to qualify, it became a case of, "Okay, what do I do now?"
In 2013, I decided to step away from the heptathlon and compete in the long jump as a single event. But again, the performances were sub-par. I had to really look at things in a fresh light. As you start to see your performances waning and no longer coming in the way that you would like them to, it does really hit home that it might be time to hang up the spikes and try something else.
IT'S TOO HARD TO SAY GOODBYE
I always said Track and Field was and is a performance sport for me that I absolutely love. So if I got to a point whereby I was no longer hitting those performances, that would be it. It just so happened that this was intertwined with no longer getting the same enjoyment. Sport is very addictive and I do have friends who have really struggled to let it go even though they knew it was time.
For me, it was always about being ultra-competitive, not just with other athletes but with myself too, and putting performances out there I could really be proud of. So when that was no longer happening, I figured, yes, that was the natural end to my athletic career.
FINDING A NEW LIFE AT CBRE
I have always had a keen interest in real estate, especially living in London. I spoke to a couple of friends who were in the industry and it sounded like something that I could really give a go. They always emphasized how it is a very sociable business and that you are not necessarily going to bore people when you talk about it. It seemed real estate is an industry that attracts a great number of former sportsmen and women. It is a great industry to be in if you are analytical and a people person. I figured I would try some work experience to see what it was like. Fortunately, CBRE provided that opportunity.
I did a week with the Project Management team in two of our London offices. On my first day I found myself standing at the top of the Cheesegrater in the City of London. By the end of that week I really believed real estate was something I could see myself getting stuck into.
2017 MARKET OUTLOOK
As everyone is aware, 'Brexit' is upon us in the U.K. and as a result 2016 was a very unpredictable year, especially after the vote. We had a lot of investors holding off making decisions, waiting for more certainty and wanting to know how things were going to play out.
Fortunately, Central London is still considered a safe haven by many. Some foreign investors are taking advantage of a weaker pound and retail has been rather resilient so far. There are still those that are holding off on completing deals and commencing developments, but at the same time others seem to be thinking "Well, it's Central London!"
MORE FROM A VIEW FROM THE TOP: