Kurt Knoff: From Hard-Hitting Safety to Real Estate Lifer
22 December 2015 by Daniel Rosen
A VIEW FROM THE TOP
One is a global real estate services company; the other, the most lucrative sports league in the world. But CBRE and the NFL have more in common than you might think. The company has several former NFL players among its ranks, including a Heisman Trophy winner, a tight end, a defensive end, a hard-hitting safety and plenty of quarterbacks. While their playing days are well behind them, they have all found a home at CBRE, where their hard work, grit and love of their labor have helped them make an indelible mark on the real estate industry.
In this new series, Blueprint, presented by CBRE, interviews NFL veterans about their lives on the field and off, and how the value of teamwork has translated to their commercial real estate successes.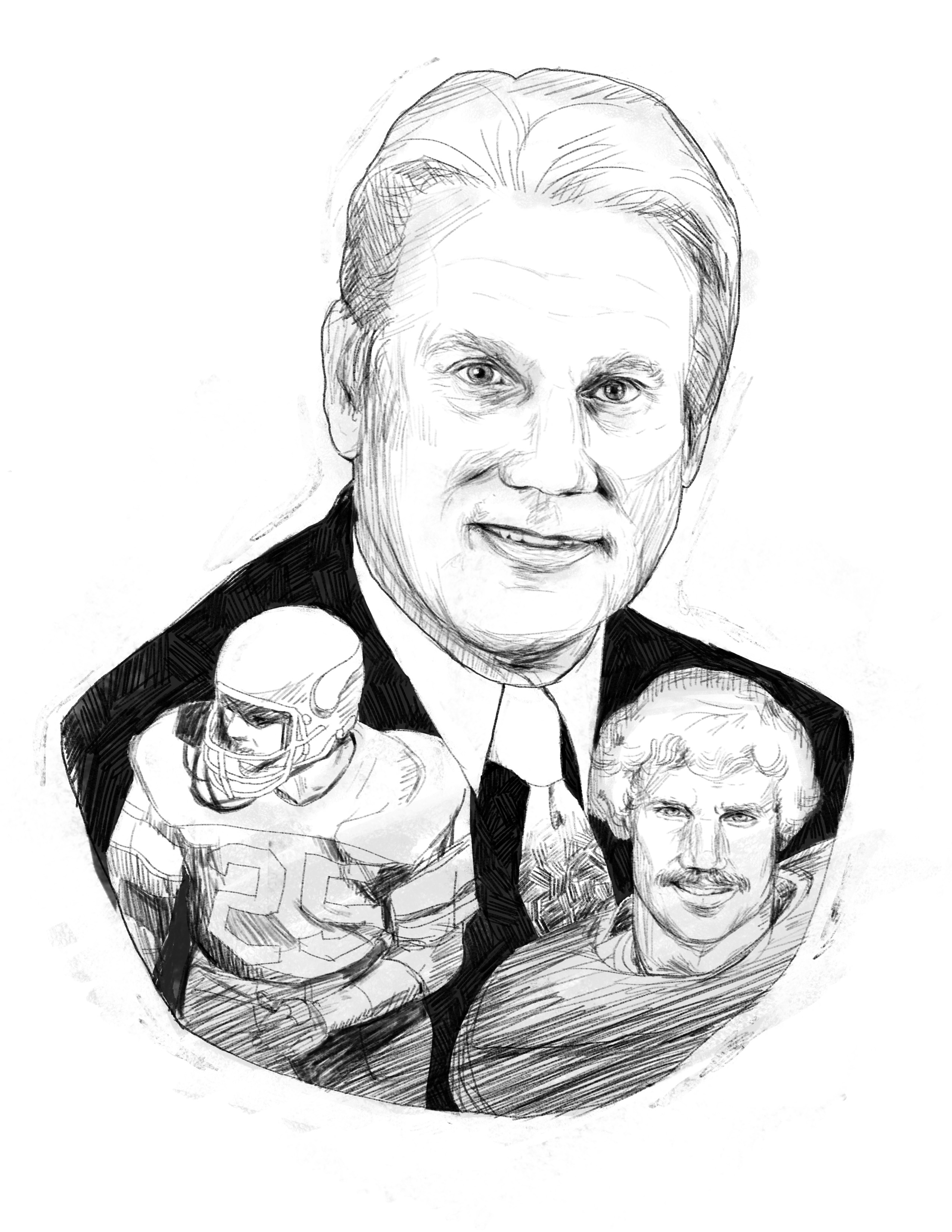 It was the play that was seen and heard throughout the state of Kansas. Kurt Knoff, a hard-hitting safety at the University of Kansas, was playing against Oklahoma State University when the opposing team's running back began making his way toward the end zone. Knoff appeared and, running full speed, collided with the running back with such force that it temporarily knocked both players unconscious. The play, now known as "The Hit," came to define Knoff's playing style and put the small-town boy from East Grand Forks, Minn., on the NFL's radar.
After stints with the Denver Broncos and the Houston Oilers, Knoff returned to his home state to play four seasons with the Minnesota Vikings. When he was done with the game, he decided to try his hand at commercial real estate. Thanks to his grit and determination, Knoff would go on to have a celebrated career at CBRE's office in Minneapolis.
In this final installment of Blueprint, presented by CBRE's NFL series, Knoff speaks about the injury that nearly cost him a professional football career, his big city dreams and how he survived CBRE's interview process.
Hometown
East Grand Forks, Minn.
School
University of Kansas
Position
Defensive Back/Safety
Number of Years in the NFL
Six
NFL Teams
Denver Broncos, Houston Oilers and Minnesota Vikings
Number of Years at CBRE
32
The Moment I Knew I Could Play Football
I was the high school athlete of the year in Minnesota my senior year in 1972. Even though I grew up in a small town in northwestern Minnesota, the fact that I was the Minnesota high school athlete of the year, I guess I had enough confidence that I could play at the major college level. I remember some people saying, "You'll be a little fish in a big pond," so when I made a decision to go to a big school like Kansas, there was a part of me saying, "I hope I'm right and they're wrong."
I grew up in a town of 7,000 people and I had 151 people in my graduating class, so it was a big leap of faith, really. I guess I just had enough confidence to think that even though I came from a small town in Minnesota, I probably was a pretty good athlete. I didn't think I was as good as I ended up being at [the University of Kansas].
Of all the recruits that came in, 30 or 40 of them, I was the first one that played and got to start. So that was a big thrill for me and all of a sudden that just reinforced the fact that I must be OK, or I must be pretty good. I think one of the toughest things as a freshman—especially if you're coming from a small town—is wondering if you really are as good as you were in this small town. But it doesn't matter who you are or where you came from. Everybody's kind of the same once you get on the football field. So basically they gave me a chance to play and then I performed well enough to start for the next 3 1/2 years.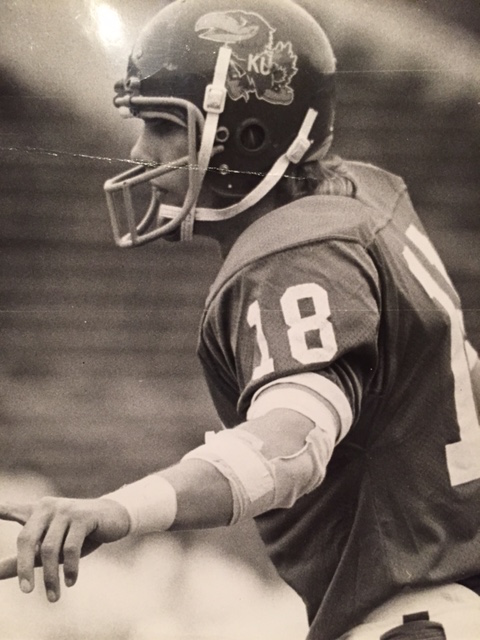 "The Hit"
I was always a hard-hitting safety and I could run pretty well.
We were both running full speed and we collided and it was this big hit. We were both knocked out and we were both on the ground for five minutes. All of a sudden, I was known as this big bad dude hitter. I had to live up to that reputation basically, which I would eventually be doing because I was always a good tackler throughout the rest of college and also in the [NFL].
How I ended up in the NFL
I tore my anterior cruciate knee ligament in literally the last game of my career at Kansas—and this was before they knew how to repair them. This was in 1975. It was bad enough where it was a major operation and then the draft came up three months or four months later. I got drafted by the Denver Broncos in the second round and I went out to Denver and they said, "Oh, you really have a bad knee," but everybody knew that. Three or four teams asked me to come in and they wanted their doctors to take a look at my knee to make sure I could play again.
So I sat out my first year. I went back to Denver my second year and went through training camp and I ended up getting cut by Denver. I was basically just a whisker away from not ever playing football again. I was devastated.
Divine intervention
I had a strong faith. I believe in God. I believed that if I was meant to play the game of football then I would be playing it. If it wasn't meant to be, then I wouldn't play.
When Denver made it clear they didn't want me because of my knee, I called up Wade Phillips, who was an assistant coach with the [Houston] Oilers. Wade is the person who gave me a chance to play with the Oilers, and I played there for two years. I was really lucky that I was able to play at all.
That was quite an experience just going through the perseverance of wondering if I was ever going to be good enough to play and if someone would ever give me a chance to play. I think that perseverance and staying with that attitude was probably helpful in my career at CBRE as well.

The Prodigal Son Returns to Minnesota
I came up to Minnesota and ended up starting for the Vikings for the next three years. And I grew up in Minnesota, so coming back home to play for the Vikings was a big thrill for me. They gave me a chance to play because they knew I had been a great player.
When I started with the Vikings, my first play ever was an interception. The ball bounced off the tight end's hands and right into my hands. So I was pretty surprised but pretty excited at the same time.
Not Putting My Eggs in the Football Basket
I graduated college in four years, which I was very proud of. After I hurt my knee in the last game of college, I decided then that I might want to hang around Kansas and work out with a trainer there and he could nurse me back into shape. I thought to myself, "Why don't I go to business school?" That's exactly what happened.
In my first three years in the league I went back and got a semester of graduate school done. Even though I was in the pros, business school was kind of like my safe haven.
How I Ended up at CBRE
I had a real good friend from high school who went to Kansas with me. We were in the same fraternity and when he finished school he started working in commercial real estate. I was 26 and with the Vikings at the time. He just said, "Hey Kurt, when you're done with football and you're ready to get a real job, you've got to look at commercial real estate."
I didn't know commercial real estate from Adam. I ended up doing some research and I realized that, you know what, that looked like a pretty good profession for me to move into after I was done with football.
I ended up having four or five interviews with the manager in Minneapolis. That's one of the things about CBRE. Back in those days, one of the things that they did was they'd put you through this grinding interview process. It was mostly supposed to see if you had the willpower and to see how bad you really wanted the job. So they kept you on a limb and would make you interview with about six people and make it sound like they really didn't want you at all. They wanted to see if you're willing to take rejection and come back for more.
I Got Hired but I Wasn't Getting Paid
I was a gofer basically for two years making $1,275 a month. They tell you that you're going to come in and be trained under somebody who's been around for a while, and I didn't have a problem with that. But basically what it is, you're teamed up with a senior salesperson and you get to work on their stuff and in return they're supposed to teach you the business and you get a chance to work on some of their stuff until you're ready to go out and go off on your own. That's the way people in this business trained 30 years ago. I've had four or five runners underneath me in my 30 years at the company.
The Value of Teamwork
I've always had a good work ethic and that probably comes from football and it comes from being from a small town and wondering if you'll ever make it when you have a bad knee. When you have other people telling you that you can't make it because your knee is too bad or you came from a small town, there's no way you can compete against the big boys. I think it's just not being afraid to work hard and then putting yourself around good people and hiring good people to be part of your team.
I value the importance of having a good team around me.
MORE FROM A VIEW FROM THE TOP: