Jon Lee: From Minor League Pitcher to Ace of Office Space
17 January 2017 by Daniel Rosen
A VIEW FROM THE TOP
To the casual sports fan, the life of a professional baseball player in the minor leagues is the stuff of whimsy. Players play their games in the evenings, spend their days touring the country, play against the best competition in baseball, and get paid for their efforts, too (however meager in comparison to the major leagues).
At some point you have to just feel like there has to be a payoff for this.
What sports fans customarily do not experience is the incredible amount of time baseball players must devote to their profession in order to keep their spot on the roster or risk getting cut in favor of other players breathing down their necks. For minor league pitcher Jon Lee, life as a professional athlete meant arriving at the ballpark each day at 11 a.m. to prepare for a ballgame at 7 p.m. Following 9 innings of baseball, it was on the bus or plane at 1 a.m. to travel to the next ballpark to arrive in time for an 11 a.m. Then it was another game, another road trip, and another day of wondering if you're going to make it to the big leagues or get cut.
"At some point you have to just feel like there has to be a payoff for this," says Lee. "It's such a grueling existence that unless you're getting compensated at the highest level, you just have to love it so much to have that kind of life, that kind of existence," he adds.
After stints playing for the farm systems of the Arizona Diamondbacks and Houston Astros, Lee retired from the game ("I would say that the decision was made for me") and moved back to Houston to be with his girlfriend (now wife) and to figure out his next step. In 2004, after a brief stint at a commercial bank, Lee found his way to Trammell Crow Company. After the firm was acquired by CBRE in 2006, Lee transitioned his way to CBRE, where today he is senior vice president of Brokerage Services in Houston.
"When I first started out, one of the things I really liked about the real estate industry was that it was seemed to be fun. It seemed to be entrepreneurial and very competitive. I wasn't scared by the competition because I knew I could compete," says Lee. "Those are the aspects that honestly I still really, really enjoy to this day."
Blueprint, presented by CBRE, spoke with Lee about his time in baseball, striking out Albert Pujols, and what to expect to see in Houston's office market in 2017.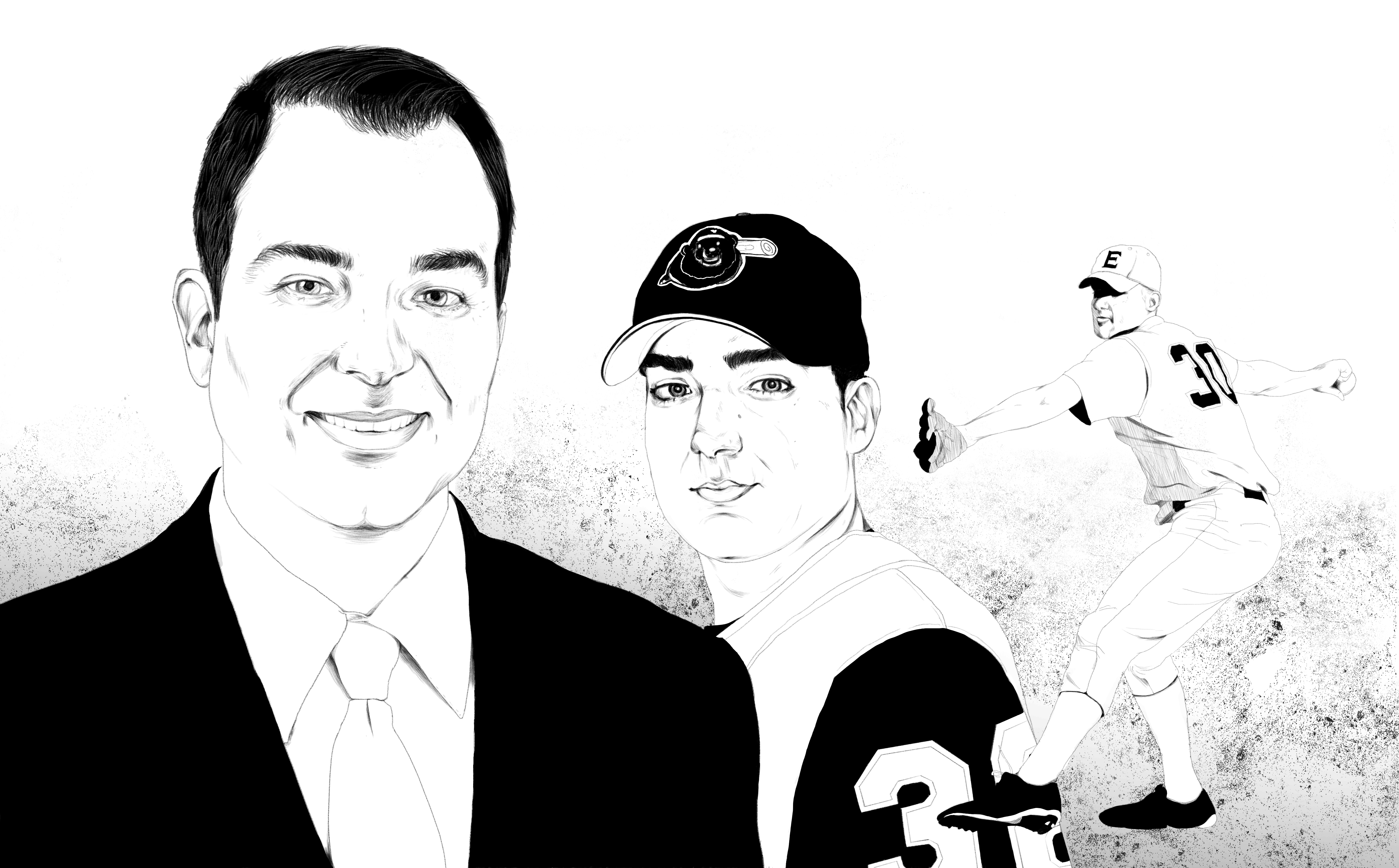 POSITION AND SPORT
Pitcher, Baseball
NOTABLE ACHIEVEMENTS IN COLLEGE BASEBALL
Emory University Rookie of the Year (1997). Emory University Team Captain (1999, 2000); 3-time NCAA All South Region Selection (1997, 1998 and 1999), UAA All-Conference Selection (1999). Emory University record holder for games started (50) and innings pitched (355); and 2nd all-time wins (30).
TEAMS PLAYED FOR
Arizona Diamondbacks (Rookie Class), South Bend Silver Hawks (Class A), Tucson Sidewinders (Class AAA), Yakima Bears (Class A), Lancaster JetHawks (Class A), El Paso Diablos (Class AA), Houston Astros (spring training squad).
PROFESSIONAL ACCOLADES
NAIOP Houston Office Rising Star (2009), NAIOP Houston Office Deal of the Year (2015), NAIOP Houston Office Broker of the Year (finalist) (2015), CBRE Houston Top Producer (2010-2016).
TIME WITH CBRE
12 years, including Trammell Crow Company
WHEN I KNEW I COULD PLAY BASEBALL
Little league. I started playing baseball when I was eight. Right from the get-go I found myself on the mound because I threw harder than most of the kids I played with.
I played for a select AAU team called the New England Mariners, which is like an All-Star team from the New England states. We would play in national tournaments every year. I did that in high school and then I got recruited by a number of schools. The one thing that was a foregone conclusion for me was I knew I wanted to play baseball in college. I had always dreamed of playing baseball professionally, but playing baseball in college was something that obviously was a stepping-stone to do that. In high school, while I was good, I wasn't throwing as hard as I needed to to ultimately play at a major Division I school.
In high school I threw in the mid-80s (MPH.) That's pretty good but it's not Division I scholarship good.
TO GO PRO OR TO STAY IN SCHOOL
I did very, very well pitching for Emory. I was the number one starter as a sophomore. We went to the College World Series my senior year. I won a bunch of awards. I would tell you that after my sophomore year, I got to pitch in the Alaska League, which is like the Cape Cod League of the West Coast. That's when I first started getting scouted by Major League teams, going into my junior year.
I had an opportunity to potentially leave school and play professional baseball after my junior year, but doing the math on the opportunity cost, I just felt like, "Gosh, this better be worth my while or I'm not going to do it." My communication to the teams was I needed X amount of dollars to consider this, which was more than I was worth. One team decided to let me finish school, at which I promptly signed for $1,000 and a plane ticket. That's fine. I threw in the low 90s. As a right-hander pitching in 2000, I was a dime a dozen.
MY PITCH
In college I was a fastball/slider pitcher. Fastball/slider/change up. I was a starter. I pitched a ton of innings and did well. By the time I got to professional ball, though, one of the things that was pretty clear was my fastball wasn't that fast anymore. They tried to change my arm angle. I ended up hurting my shoulder my second season with Arizona as a result of changing the arm angle to try to get more run on my fastball. That's just the progression of the athlete. If you need to compete at a certain level and you don't have a certain skillset, you try to adapt. I did for a little while, but I wasn't able to keep my arm healthy and still throw with enough velocity and movement to be relevant.
TIME IN THE MINORS
I graduated and signed with the Arizona Diamondbacks and played two seasons with them. Then I signed a contract with the Houston Astros in my third season and had a brief stint there.
In my time with Arizona I got to play up through AAA in both of my seasons with them, which was a thrill. I had enough of a minor league experience to know that I either needed to make it to the big leagues or go get a real job. It was fun while it lasted but it was very, very hard.
DEFINING MOMENT OF CAREER
I would say the icing on the cake was I got to pitch against Albert Pujols in the minor leagues.
I actually struck him out to end the game in Single-A. That was a year before he won Rookie of the Year. I was pitching for the South Bend Silver Hawks and he was playing the Cardinals' Single-A team. I will say that at the time, it was really no big deal because Albert Pujols was a nobody, just like me. It's only looking back when you smile and think, "Oh, that was pretty cool."
BASEBALL IS A MENTAL GAME
To a certain extent, if you don't have velocity and other skills, you just can't make it. I think there's a mental aspect to the game that is incredibly significant that gets lost on the average fan: It's the ability to focus. It's the ability to compete. It's the ability to outsmart your opponent. The mental game of baseball is huge. It's not just about the pitching mechanics. It's about the finer aspects of the game.
THE HARD REALITY OF HARDBALL
What people don't realize is that in professional sports, the days are extremely long. It's absolutely physically and mentally exhausting. It's an absolute grind. It's nothing to even comprehend until you're in it. Then you think, "I can't do this forever." At some point you just feel like there has to be a payoff to this. It's such a grueling existence that unless you're getting compensated at the highest level, you just have to love it so much to have that kind of life, that kind of existence.
For me, professional baseball was not what I thought it would be as I dreamt of professional baseball as a kid. It's a very cutthroat business. It gets romanticized in movies, but it is a really hard lifestyle. You're around people who are killing each other to be the one or two guys that move up from every team. There's never really a sense of team until you get to the highest level. I feel like there's always a sense at which you're just trying to survive longer than the guy sitting next to you. Again, three years for me was plenty.
WHY I LEFT THE GAME
I would say that that decision was made for me. It was made for me twice when I got released by both the Diamondbacks and the Astros. After the Astros released me during my second spring training, there were approximately 1,000 professional baseball players looking for jobs with no open positions. The road back to getting into a team for me was going to be long and arduous. At that point, I had just had enough. I didn't feel honestly that my stuff was good enough to compete at the highest level. I had certain aspirations of doing anything but having an extended career in the minor leagues, making minimum wage and starving to death.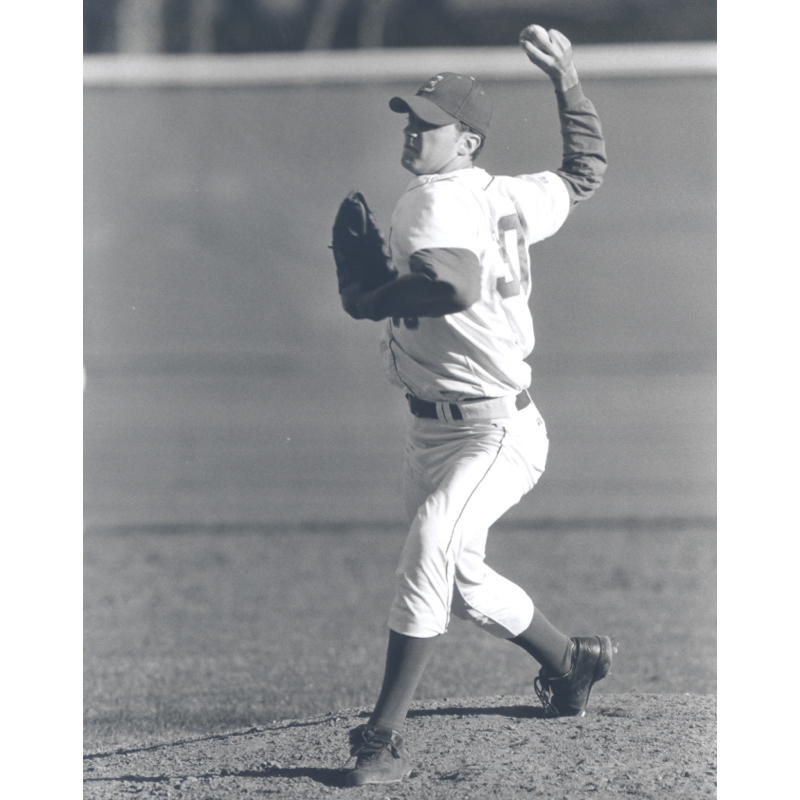 FINDING THE NEXT STEP
For someone who by then had been out of school for a couple of years, I really had to think about what I was going to be as a grown-up. In professional sports, you can't allow yourself to think anything other than, "I'm going to make it," or else you're not going to. I went back to Houston to try to figure things out.
In professional sports, you can't allow yourself to think anything other than, "I'm going to make it."
At that point my parents went back to Houston. My now-wife was by then a college student at the University of Houston. My dad spent some time in commercial banking and his thought, which was really good advice, was, "Why don't you go to work for a commercial bank and go through a lending program? You'll see all kinds of industries and you'll meet people and you'll get some credit skills. You'll just learn about industry."
I worked for SouthWest Bank of Texas, which is now Amegy, for two years. In the process, I ended up learning about real estate and meeting people in the real estate industry. I met some friends who invited me to learn more about what they were doing at Trammell Crow, so I did. Then I joined them in the fall of 2004. The rest is history.
REAL ESTATE IS ITS OWN COMPETITIVE ARENA
I think one of the things that professional sports teaches you is how to push yourself, both physically and mentally. You almost push yourself to the limit. When you're moving back into more of a typical kind of industry, the intensity is so different that you look at it and you go, "Okay, I can do that." If I can make it in professional sports, I can make it in whatever industry. Tell me the rules of the game. Tell me how to compete, and let me go compete. I think that the industry in general is very good to those who are hardworking, self-motivated and disciplined. These are some of the character traits that are instilled in athletes.
I was very fortunate to have a smaller team of experienced professionals at Trammell Crow. There were six people and they all worked as a team. That allowed me to learn the industry, learn the market, and get some deal experience without just cold calling my head off for the first year. Now I did plenty of cold calling. That was my job. It was call tenants, find a way to get meetings, go to networking events, find a way to meet people. It's hard to be relevant at age 26.
WHEN I KNEW I COULD THRIVE IN REAL ESTATE
Quite honestly, the CBRE acquisition of Trammell Crow Company was a great opportunity for me. It was a chance to work for the industry leader and to work with some very, very talented, highly respected senior professionals in Houston and to start to learn from them. I think in that first year with CBRE, I felt like I can do this. Until then, it was very much like I'm still grinding. I'm still trying to prove myself in this career like I was doing in minor league baseball. The only difference, obviously, is that there was no inherent deficiency. In what I could see from commercial real estate, you didn't need a 98-mile-an-hour fastball. You just needed to be hard-working and educated and a professional with good business acumen. You needed to build relationships. It's just a matter of time.
WHAT TO EXPECT OF THE HOUSTON OFFICE MARKET IN 2017
The office leasing market in Houston is going to be soft in the short term. We have a glut of supply from energy companies disposing of excess space with the downturn in the energy market. I think we have a manageable amount of inventory. I think the supply side has been cut off for now, so we have a known quantity of buildings. I think that as we grow out of this energy correction, we'll eat into the supply, but think it's going to be a couple of years of probably soft fundamentals. I think there's going to be some great opportunities for tenants. I think it's going to be some tough letting for landlords. We'll get through it. It's certainly not going to be—at least from what we can estimate—anything close to the dire bust of the early '80s. I think we're in an entirely different place as a city and we're in an entirely different place in terms of a market and the amount of inventory we have.
MORE FROM A VIEW FROM THE TOP: