Andrew Leoncelli: The Most Determined Ruck Rover in Real Estate
04 May 2017 by Daniel Rosen
A VIEW FROM THE TOP
Just as soon as Andrew Leoncelli was beginning to exhibit his potential as a professional Australian rules football player, his chance was cut short. The reason: A change in the age requirement for players to enter the professional league system forced Leoncelli to reassess his goal of becoming a professional footballer.
The Melbourne native relocated to Brisbane to pursue a law degree, but something was eating at him: He was not given his proper chance to try out for an Australian rules football team. He said as much in a letter he sent to the head coach of the Carlton Football Club, one of the most prestigious clubs in Australia. Leoncelli was given his chance, and soon began a storied career as a ruck rover (midfielder), first for Carlton and then for the Melbourne Football Club. Now a managing director at CBRE's office in Victoria, Australia, Leoncelli spoke with Blueprint, presented by CBRE, about how a career in Australian rules football, one of the toughest sports in the world, prepared him for a career in commercial real estate.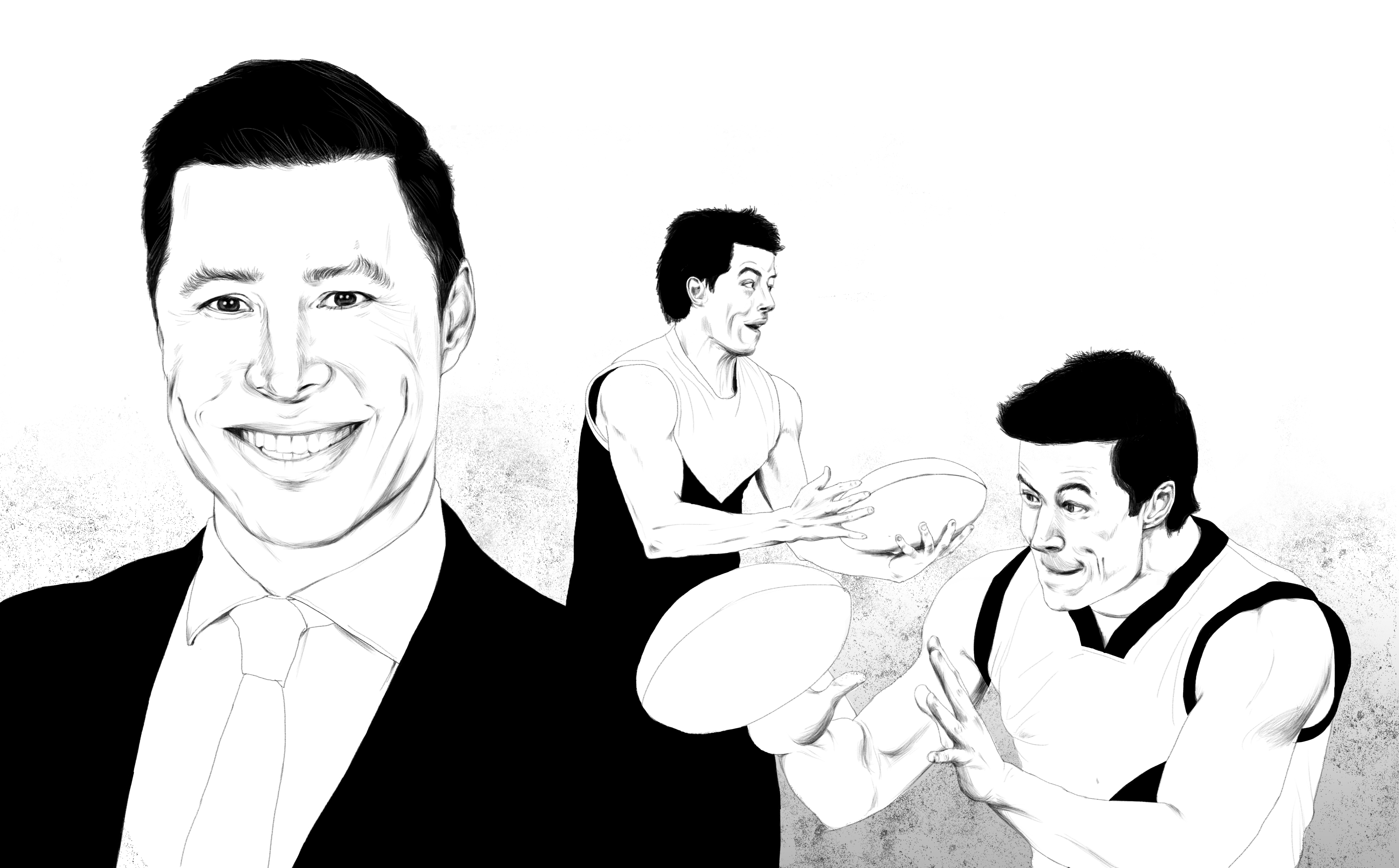 HOMETOWN
Melbourne, Australia
POSITION AND SPORT
Ruck rover (midfielder), Australian rules football
TEAMS PLAYED FOR
Carlton Football Club (1993), Melbourne Football Club (1996–2003)
PROFESSIONAL ACCOLADES IN REAL ESTATE
Top Fee Earner, CBRE Victoria (2013, 2014); Circle of Excellence 2013
When I Knew I Could Play Australian Rules Football
I was always sports mad, which is typical of an Aussie kid. I played cricket during the summer months and Aussie rules football during the winter. I played competitively from the age of 8 and by the age of 12, I was starting to develop my confidence and ability. Playing in the middle gives you the opportunity to win the ball a lot, and if you've got the ball a lot, it's usually a good indication you understand the rhythm of the game. This was one of my strengths.
I was never naturally blessed with speed; I think that was the case throughout my career. But I had good short-distance explosive power, so I could actually get away from people quickly. This is a useful thing playing in a heavily congested position, because you only need to get a meter or a meter and a half away from somebody, and then you can just use the ball, cleanly and clearly, to bring your teammates into the game.
What a Midfielder Does
Just so you understand, the midfielder sits at the bottom of the feet of a ruckman, who's usually very tall. Whenever there's a stopped play, the umpires will throw the ball up in the air between two of these big men. It's like jump ball in basketball, except, obviously, we kick it and do lots of other things, but I was one of the guys that sits at the feet of the big men, and who fought for the football to win it when it hit the ground. Then we had to get it out to the faster, more skilled guys who would then just kick it into the forward line. That's really my role; it's a "go and get us the ball" role. It wasn't an especially glamorous role, as it involved a lot of physical tackling and hard one-on-one competing.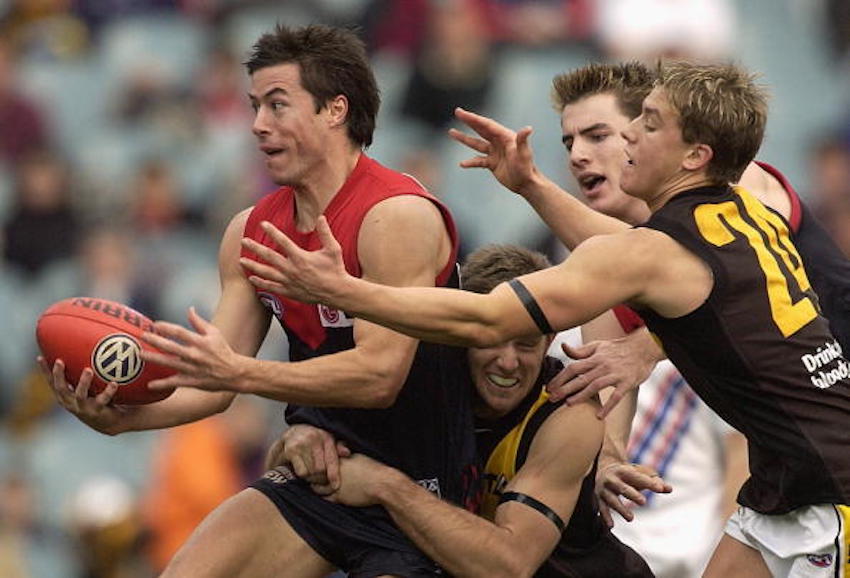 An Amazing Physical Contest
It's a physical sport, so it's not just about the speed. It's about the brawn and the ability to take someone down. It's about body position, knocking people legally out of the way to get the first use of the ball. It's an amazing physical contest that doesn't involve thuggery. Instead, it involves a lot of smarts and bravery.
The Pain of Getting Looked Over
During my 12th year I didn't get the opportunity that a lot of the young kids get today. When I was 18, during my final year of school, the Australian Football League changed the under-19 competition. So, previously, there was going to be a year where I could go in the league system and play with young men my age, but they scrapped that and changed it to an under-18 competition, which I was ineligible for. I was lucky that the talent scouts would come to my school.
From high school, I got selected to play for the Carlton Football Club–one of the most prestigious, most successful clubs at the time with a long history of winning. I played the full season, 23 games in all. I didn't play in the senior team that year, but I played every one of the reserve games. That's for young people like myself and older guys, and the guys, you know, out of the senior teams that played seconds. It's the preparatory competition for the senior. I did a year there, but again there were exogenous rule changes that impacted my ability to stay at the club. Every club at the time could have 52 senior listed players, and the competition wanted to save money so they cut the list back to 42 players on a roster. I was the last in, so I was also pretty much the first out. They didn't have a philosophy of developing younger talent at the time. Instead, the focus was on ready-made senior players to keep the senior team pushing for their next Premiership, which they did end up winning two years later in 1995. So at 19, my dream of playing league football was finished after just one year, which was not amazing.
From Australia Rules Football to University and Back
After the Carlton Football Club delisted me, I moved to Brisbane and studied law at the University of Queensland for a year, which I enjoyed very much, having deferred the position immediately from school.
I ran three times a week and went to the gym and kept myself fit and strong.
The local football league up there was poorly developed because the kind of football people played back then in Brisbane wasn't Aussie rules. It was a soccer and rugby stronghold, and they just hadn't developed any local Australian rules football competitions. I went to try out with the University of Queensland footy team, but they didn't know how to kick the ball, so it was a waste of my time.
I wrote a letter to David Parkin, the coach at Carlton, saying that I didn't believe he'd given me my opportunity properly. I told him that I refused to believe that at 19 my career could be finished before it had even started.
He said, "Look, when you come back to Melbourne, if you ever come back, I'll give you a commitment and I'll watch you. You're right, you probably didn't get a good opportunity." As it worked out, I moved back from Brisbane after one year for family reasons and began the next chapter of my life in Melbourne. I attended Melbourne University, had a part-time job and played football for the Old Xaverians Football Club.
The coach of that club was a famous Richmond footballer called Barry Richardson, and he went to Melbourne that next year to help his very good friend Neil Balme, who was the senior coach at Melbourne at the time. He said, "I've got this young kid that I reckon is pretty good, do you think we could bring him across and give him the opportunity to train?" And Neil said, absolutely, bring him down. So they offered me an invitation to train with the senior team over the summer months as a trial. I was way more relaxed this time because I'd already had my football career taken away, so there was no downside in having a red hot go. I really knuckled down at training and got myself very fit. We played a practice game the week before the final draft and it was my one opportunity to impress the senior coaches. We played against Collingwood and I had a very good game. I kicked three goals and was the best player on the ground. It was a big famous club here.
To get a second chance was an amazing thing. Every post was a winner from there, and I was basically never out of the senior team for the rest of the next eight years, which was a very satisfying turnaround.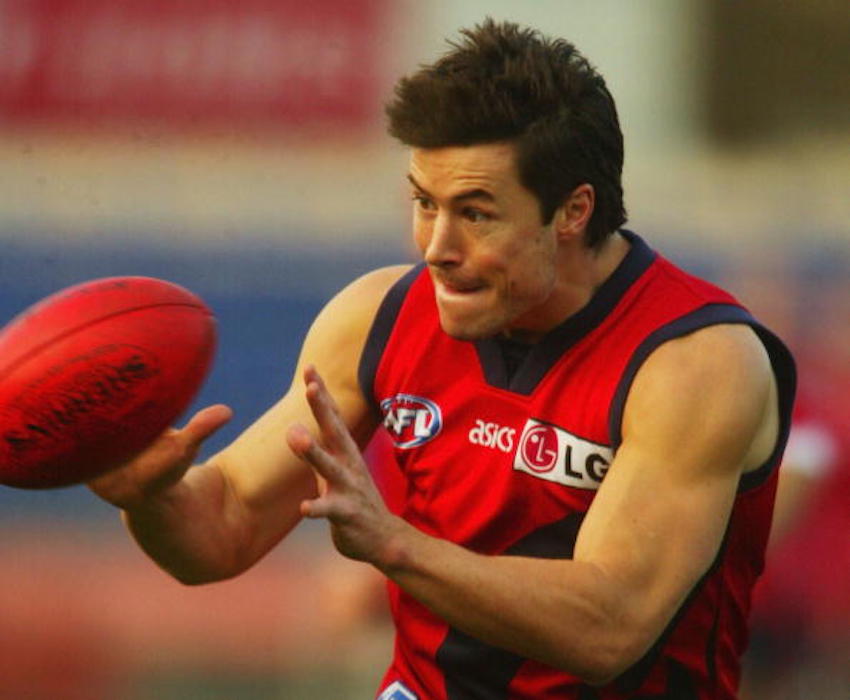 The Thrill of Being a Professional Athlete
Well, there's a couple different things. There's the satisfaction that you get from walking off the Melbourne Cricket Ground, which is the greatest stadium, I think, on earth. There's a big crowd and you're walking with your teammates after winning a game of football and we've worked together to achieve something. That, collectively, is quite possibly the best feeling I've ever had of anything in life, except for having children.
The money gave you the chance to buy a house and all those sorts of things, and that's such a positive feeling. But it's the enduring friendships that were made because of the experiences that we went through together. I mean, we are together for nearly five months out of the year, six days a week, twice a day, doing flat out training before you even play a game.
It's an incredibly physical game, so the recovery is slow and the distance between games sometimes is very short, so the demand on the body is huge. Psychologically, you kind of have to keep the goals and ambitions realistic and achievable to sort of keep you motivated.
The Defining Game of My Career
The defining game of my Australian rules football career was the 2000 semifinal against Carlton (who'd previously beaten us by over 100 points in the lead-in game). I kicked an instrumental goal from a very difficult angle with moments to go that put us in front and into the preliminary final for first time in 10 years.
My Best Skill in Australian Rules Football
I'd have to say it was my commitment to the football and to my competitor. It sounds strange, but it means I was super competitive. I was by no means the fastest, biggest or most skilled player on the field. But I was the most determined. I had an ability to run all day, which was also very useful.
The Last Play of My Athletic Career
Look, it's a really disappointing end note for me. I was badly injured but I refused to not play. I damaged my shoulder badly, and I played continually with injections. Five injections in my shoulder each week for a period of about eight weeks, and I couldn't keep up my best. My form dropped off, and it ended up in a lot of dissatisfaction.
We were coming off a couple of good years, but the team had changed. We'd sort of got different personnel, and our form had dropped and we'd gone to the bottom of the table. I looked at my life—I was about to get married and about to move overseas and all these exciting things—and I just felt there's more to life than being a professional footballer, which at times felt like I was back at school. It kind of felt a bit like Groundhog Day now that I'd been in the system for so long, and I had lost the passion to continue to play a bit part on the team.
The whole being sidelined was not for me. I thought, rather than continue playing a sort of lesser role, that I'd retire instead. So I retired at age 29, which in hindsight was way too early. I could have played until I was 32 or 33. Not that I have any regrets.
I finished six weeks premature to the end of the year. I walked out on my own terms, about four games short of my 150th match.
How I Ended up at CBRE
It was largely because of my relationship with the national chairman, Justin Brown, that I ended up at CBRE. We were joint venture partners on a development project in Melbourne. I was a development manager running the project Justin was invested in. We built a professional working relationship and he invited me to roll my sleeves up to help him start up a new business line for Victoria which hadn't existed previously, and that would be Residential Projects.
My First Months on the Job 
I was largely sitting at a computer watching the cursor move, wondering how I could become an agent. It was a "sink-or-swim" situation, so I started swimming hard. I didn't have formal agent training and had never been an agent before. I had run large-scale multi-unit sales campaigns for the residential projects I had managed, so I knew all the working parts. To say it was a steep learning curve would be an understatement.
The thing that football gives you is just this amazing drive, an incredible focus on results and the ability to overcome an absolutely fierce workload. It also gives you a huge volume of energy. "WIN" was an acronym that we used to use, which stands for "what's important now." You know, you can't worry about the past. You can only focus on the next opportunity and the next contest.
What We Should Expect to See in Melbourne's Real Estate Market in 2017
Melbourne is maturing as an international city. Currently, we have just over 4.75 million people with consistently strong population growth headed to 8 million in 2035, and 10 million in 2050. The only way we can accommodate that sort of growth is through medium- to high-density apartment development. The long-term outlook for our industry is enormous.
In 2017, we expect market conditions to be the toughest we have had for the past two to three years. But still, the results should be solid as rates remain low, house prices continue to grow and our population rises. Melbourne is incredibly affordable compared to Sydney and to all other major Southeast Asian cities.
The downside on our apartment prices is that they're extremely low, so we represent a very safe bet for many international investors. This will hold Melbourne in strong position to ride out the bumpiness we expect over the next few years. The local buyer market is very different with locals preferring much smaller, lower-density developments with larger apartments, more facilities, better local amenities and higher car parking ratios. This market will continue to mature and develop over the next 10 years and CBRE is very well placed to capture a large chunk of this business, which is very exciting.
MORE FROM A VIEW FROM THE TOP: